Posted by Fletch in Books | 5 Comments
Nightshade of the Skeleton Key Guild
James Nightshade of the Skeleton Key Guild has captured the fans and Chloe's imagination since he first appeared in The Doorknob Society Saga. A swaggering and intense man who never hesitated to do what was needed to help those he cares about. One need look no further then the events in The Impossible Engineers to see how far Nightshade is willing to go.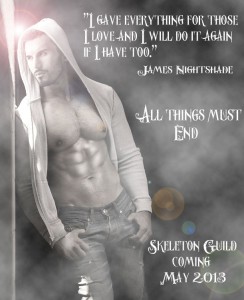 But now with the release of Skeleton Key Guild coming in May. One has to wonder what will be the fate of, as Chloe has put it, "the most infuriating man in the world." Nightshade's past has always haunted him and he has done anything possible to make sure he never loses anyone he loves again. He is willing to make any sacrifice, the question is will he have too?
Much of Nightshade's past still remains a mystery. What we do know of him is draped in tragedy. But might his past also contain clues to the coming events in the Skeleton Key Guild?
Many people have requested that Nightshade get a book of his own. I've considered that and even have thought about doing a prequel or novella with Nightshade and his first love. But first I want to allow the events of the Skeleton Key Guild to play out. Also for anyone who wants a little more Nightshade you can check out the short story collection the Cape Beanery Chronicles. He appears in two of the shorts and I am also in the process of writing a new short story starring Nightshade.
So what does everyone think does Nightshade deserve his own book? And do you think he'll survive the Skeleton Key Guild? Let me hear your thoughts in the comments.