Posted by Chloe in Chloe's Blog | 0 Comments
Home Sweet Home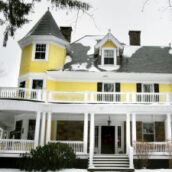 The first snow of the year! This is my home, its been in the family for generations and I spent more summers then I can remember playing in the back yard. The window up top is what use to be the attic and now serves as my room, I love that musty old place. It also has a great view of Ocean Avenue in Cape May.
I love this house beyond words. It's just me and dad right now but during the year any number of family members can show up and stay here with us. My grandparents, Uncle Archie and even my plethora of cousins and friends have crashed here.
Not that I mind I love that we have such a big family that is always around and driving me nuts. At least it gives me back up when dealing with other Old Kind.