Posted by Fletch in Books, Graphic Novels | 0 Comments
Doorknob Society Comic Book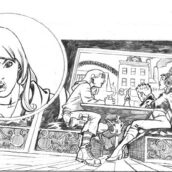 While the Doorknob Society novel is now out and doing well. I wanted to remind everyone about the comic books being created about DS. The story for the comic is completely original and takes place around the time of the second novel. Though it doesn't give away any details about that book. (No spoilers folks)
The comic will showcase numerous characters from the novel including: James, Nightshade, Jessica Grimm, DI Emory and of course Chloe Masters. In the page below we give you and inside look at the Cape Beanery.
We're currently hard at work on the books with the script first two issues done and the following one being completed. Wendell Cavalcanti who was the artist for the DS short that will be appearing in DWP, has returned for the series. And he is doing a wonderful job on the artwork. Eric Dotson will be returning as inker and we'll be rounding at the rest of the team shortly.
I also hope to info for you on another short that will be appearing soon as well. We'll be updating the progress on the series as it happen and hope to have a launch date for you sometime soon.