Posted by Fletch in Books | 2 Comments
The Detective Inspectors Cover Reveal
I'm happy to share with you Book 4 of the Doorknob Society Saga, The Detective Inspectors cover reveal. A great deal of work has gone into this work and if all things stay on target will be in your hands by mid January of 2013. but for now here is the cover and back copy for you to enjoy.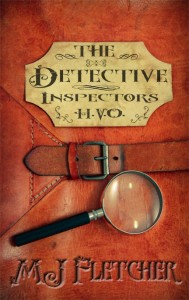 Chloe Masters life is in disarray. Her best friend Edgar Magnus has been kidnapped by her mother. The Detective Inspectors of the HVO have been compromised and appear to be helping in the crime. All but one that is, Declan Hardcastle, a young DI who is more than willing to help Chloe in her quest. But is he looking for more than just friendship?

Her friends are spread far and wide; Jess has begun her apprenticeship in Paris while Slade is working for the Impossible Engineers. Nightshade has returned but is he the same man? Can he truly be trusted?

When Chloe learns Edgar's location it's a race against time. She needs to stop her mother's pernicious plans and save Edgar while keeping everyone else she loves alive. But the question becomes… does Chloe plan on getting out alive?
Catch up with The Doorknob Society Saga.
The Doorknob Society (Book 1) 
Kindle
 (Exclusive to Amazon)
[youtube]http://www.youtube.com/watch?v=fKYx7-1dsPU[/youtube]