Posted by Fletch in Books, Chloe's Blog | 0 Comments
The Guild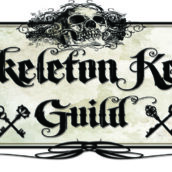 The Skeleton Key Guild or the Guild as it is known by members is one of the Old Kind Societies. It has existed since the time of the war with the First Kind and has a long and glorious history.
Many of its traditions are cloaked in mystery and little is known of its inner workings. When I first came up with the idea for the Guild it was a dark mirror image of the Doorknob Society, though some might say the reverse is true.
The Guild is unique even among the Old Kind with its secrecy and organization. The Guild itself is run by a quorum of leaders each of who in turn runs a section of the Guild. Some more powerful then others. Some of these groups are known and feared others are only spoken of in hushed whispers. One such group is the League of Skull & Bones, who we will be learning more about in upcoming books.
Some of the families of the Guild have been in existence since its founding. The Grimm family in particular has been involved in major events that shaped the Old Kind and the Guild itself. As has the Nightshade clan and something tells me that they haven't finished yet.