Posted by Fletch in Stuff, writing | 2 Comments
Writing, food porn and getting things done.
Writing can be a terrible mistress. The problem for writers is that you're always thinking about writing. Even when you're supposed to be doing other things you think about writing. Washing the dishes, vacuuming, shopping, drinking with friends and on forever, when all you really want to be doing is writing. Or worse yet when you are on deadline and NEED to be writing.
I recently finished writing my latest novella, it involves an entirely new cast of characters and I thoroughly enjoyed stepping out of my comfort zone. Yet now that I finished I immediately have the gnawing feeling, that I should be writing something else. It is a sickness honestly, the need to keep putting out new work. But I can't seem to help myself.
Over the summer my family spent a lovely time in Philadelphia. We got to stay in the Rittenhouse Square area and thoroughly enjoyed ourselves. Though I of course kept thinking about my need to write during this time. I must say that one thing did seem to stem the tide of guilt I usually feel when I am not working on something. That would be the restaurants and delectable food they served.
Nights became filled with Lamb Shank, Sea Bass and Absinthe. An absolutley to die for series of cheese platters that can still make my mouth water thinking about them. Eating at such wonderful restaurants as Devon Seafood Grill and Parc Brasserie directly on the square was well worth the trip. (Beware here comes the food porn)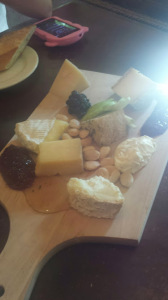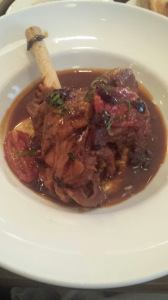 When I wasn't busy eating or taking int he sights and history of Philadelphia. I did manage to get some writing done. I think it helps to break up your routine and write somewhere new. It can be inspiring to look out on a city and think of fresh new ideas. It doesn't hurt if your stomach is full with wonderful either.