Posted by Fletch in Books | 9 Comments
The Skeleton Key Guild
The Skeleton Key Guild, the final book in the Doorknob Society Saga, has its first draft completed and being edited. It has an anticipated release of May of this year, that is if we can avoid anymore super storms. I must say I am beyond thrilled with the response so far to the overall Saga.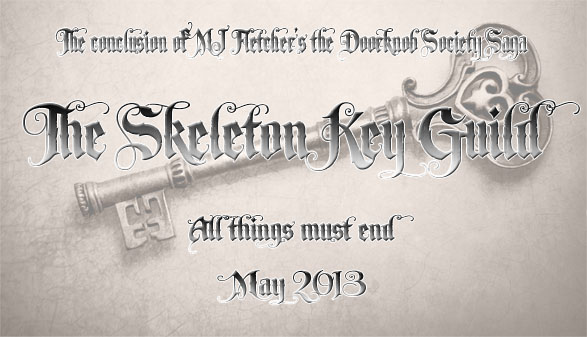 I've been planning the events that will culminate in The Skeleton Key Guild for several years now. Sewing up the numerous story lines of the characters that we've all come to know and love. I will say now that not all of them will make it through the saga alive. Some of these story arcs have been planned from the start while others have unfolded as I wrote the novels. But many questions will be answered and story arcs will be fufilled. it is gratifying to see it all come together and I'm glad you've all joined me on this journey.
I am attempting to tie up everything I can to resolve any questions fans may have. But I also do have a few threads that I am interested in picking up somewhere down the road. The universe of the Old Kind is a place I intend to keep visiting.
With that in mind as the edits of book 5 continue I am also happy to let everyone know that work has begun on a follow up series.  As I discussed in and earlier blog post I've been planning on moving ahead with other characters.
I've been asked numerous times who will be the star of the new series. With each of the many characters getting love from the fans. Edgar Magnus already received his own short story in the novella of Doorknob Society shorts. The Cape Beanery Chronicles. There will be more shorts stories to come and even a novella for one main character that I've been planning called, The Victorian Express.
But for now let the guessing and hoping begin as to who will survive and who will get their own books. I'd love to hear your thoughts below.